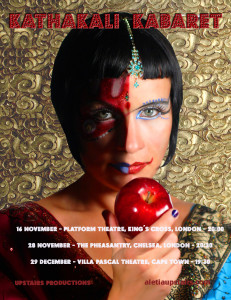 Seven short men can drive a woman to the deadliest of sins! Enlightened by various Indian performing arts, Aletia Upstairs brings an exotic new dimension to the Snow White fairy tale.
In her inter-cultural spin on the Hans Christian Anderson heroine Snow White, she uses the Indian performance style of Kathakali – in which the performers transform in full view of the audience. She portrays Snow White as well as her evil stepmother, relishing both roles as she sings numbers including 'Some Day My Prince Will Come', 'I Want To Be Evil' and 'Hai Rama Ye Kya Hua'. She also portrays The Blue Fairy, inspired by the Indian goddess Kali.
The script is drawn from Anne Sexton's feminist poem "Snow White and the Seven Dwarves." Aletia adds a layer, casting the dwarves as the Seven Deadly Sins, all of whom have to be dealt with. Making arch commentary on the ways of women, Aletia illustrates how Snow White and her evil stepmother are not so different after all…"In the end, referring to her mirror, as women do."
Dressed in hotly-coloured costumes and gorgeous make-up she takes Snow White to India. Her cultural fusion cabaret is rich in music, insight – and fabric!
This show features live piano, a tambura drone and traditional Indian percussion instruments.