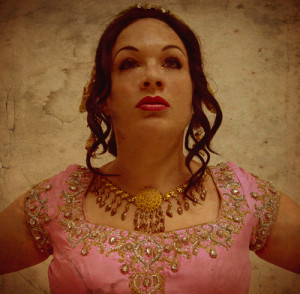 "I'll know how to die."
Mata Hari, courtesan and exotic dancer, was a notorious and intriguing figure; the most famous femme fatale of her day. In 1917, she was imprisoned, accused of espionage during WWI. Awaiting death by French firing squad, she reflects on her life.
"Mata Hari" means, in Malay, Eye of the Day: the sunrise. London-based cabaretist Aletia Upstairs investigates and illuminates how Dutch-born wife Margaretha Geertruida Zelle re-invented herself as Mata Hari: woman of mystery, the first exotic dancer of Europe, and a temptress who entertained men.
"I learned two things in Indonesia: the power of my beauty over men, and the power of a dance…with every veil I threw off, my success rose. Pretending to see my dances as very artistic…they came to see nudity." We see Mata Hari's art of seduction, inspired by Indonesian temple dance, complete with veils and exotic headpieces. She created a mythology around herself, and became the most desirable woman in Paris. Mata Hari was much admired by officers, for whom she had a particular passion. She was accused of accepting German money to spy on the French.
"But I beg you to believe me, I never did a single act of espionage against France." Recruited as a counter-spy in a trap to execute her, she was sentenced to death. She faced it bravely – standing upright, wearing her corset. Mata Hari saw her death as her final performance.
"I am alone. I will defend myself, and if I must fail, it will be with a smile of profound contempt." Proved posthumously (1985) to have been framed by the French, German and British intelligence, Mata Hari was possibly punished for her sensuous, licentious lifestyle.
A solo cabaret show about the ultimate femme fatale who paid the ultimate price. Written by Aletia Upstairs, based on verbatim taken from letters and interviews with Mata Hari and interspersed with dance and songs in French and Dutch. Selections include "My Death", "Twenty Five Minutes To Go", and Aletia's own compositions "She Cries" and "Catch Me When I Fall".